Power Distribution Enclosure (PDE)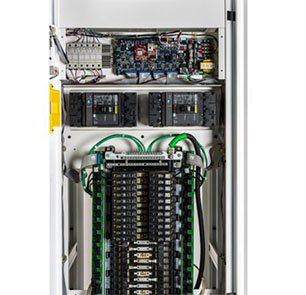 Data center managers, facility managers and design engineers now have a power distribution system available that will reduce circuit costs, increase flexibility and complement reliability improvements.
MICROLINK Power Distribution Enclosures (PDE) with integrated wire management reduces seal tight cable costs and the need for external raceways. The wire management is located in the lower front and rear of the Power Distribution Enclosures and server cabinets for easy access to power circuits. Additional enclosures can easily be added to an existing row. Traditional bottom or top cable landings serve non-adjacent Microlink Enclosures, various brand enclosures and stand alone systems.
The Microlink Power Distribution Enclosures with integrated wire management can be installed in raised floor, reduced height floor and non-raised floor environments.
Patented aluminum extruded 6063-T5 welded frame with steel doors and panels rated at 2,500 LBS with bolt down base
Matches popular Martin Enclosures
Durable powder coat finish
Designed for In Row data center applications
Height and depth of PDE can vary to match server cabinets
Locking front and rear doors
120/280 VAC four wire plus ground input
Delivered assembled and tested
Removable access panels
84 or 168 breaker positions
200% rated neutral
Universal panel boards
Easy access cable management in lower front and rear of enclosures
Top and/or bottom cable landing
ETL listed
84 breaker position enclosure
168 breaker position enclosure
Reduces the amount of expensive seal tight cables required
Reduces labor for installing new circuits
Reduces under floor and overhead cable clutter
Can expand existing power distribution systems
Increases cooling airflow under raised floor
Easier to add server cabinets to existing row
Can be used in raised floor, reduced height and non-raised floor applications
Supports contractor installed receptacles feeding vertical plug strips in server cabinets
Supports better cable housekeeping
A single PDE can feed non-adjacent rows with the wire management feature
Available in input configurations for:

208/120v, WYE 3-phase, up to 225A
400/230v, WYE 3-phase, up to 225A
480v DELTA to 208/120v WYE 3-phase, up to 45 kva